Park Grove design bespoke carpet for hotel restaurant
From concept to completion, the Park Grove design team are experienced in taking the hoteliers brief, visualising the end result and delivering a bespoke product that can help develop the hotel's brand.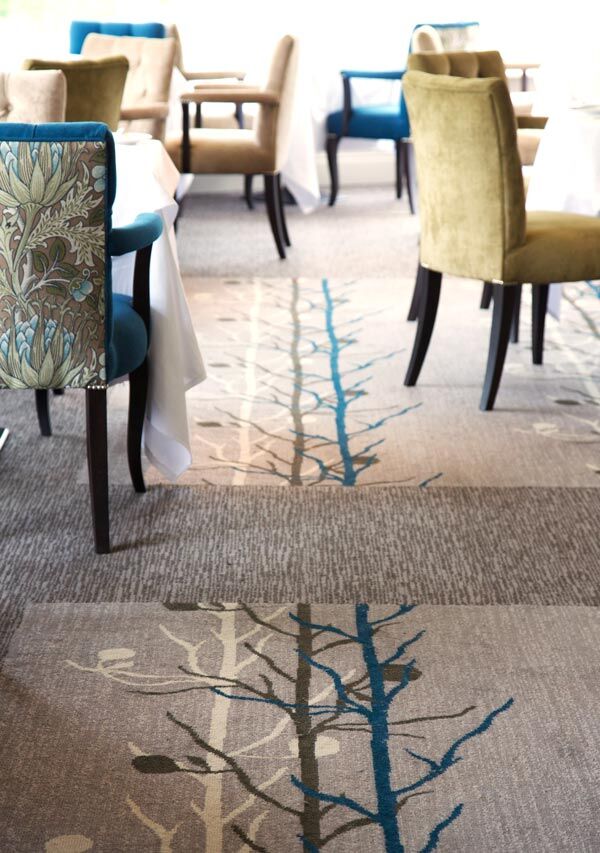 The context of the hotel in this case was the countryside views surrounding the restaurant which inspired a botanical and natural theme for the design of the carpet. Concept images were our starting point and working closely with the carpet manufacturer we were able to refine our ideas.
A weaving branch design was created which would be used as the inset feature carpet along with a contrasting border. The direction of the branch design leads the eye to the amazing views beyond, while also dividing the large dining space into zones. The four inset feature areas were mirrored as part of the ceiling detail and complemented by the furniture layouts.
Once the design was established, work started on the colour palette which was linked back to the Arts & Crafts roots of the building, with the use of earthy colours with a vibrant Teal. A number of sample colour trials were made with colour tweaks being made back and forth until we were happy with the end result.
The same feature design was used in the Lounge area which was made to look like an inset rug in the small cosy space, while a lighter colour way of the border carpet was used in The Cellars restaurant. The slight variation of the carpet over the three spaces created identity, while making the spaces cohesive overall.