In the Press: The Grand Victoria Terrace
As Park Grove finalise their redevelopments at The Grand Hotel in Brighton Daniel White went along to talk to the interior design company's Managing Director, Carly Gordon, to find out what's changed…
What is Park Grove?
We're an award-winning interior design practice, based in Brighton and specialising in unique hotel, property development and high-end care design. We have a team of designers and architects who deliver projects from concept to installation since 1993.
Can you tell us about your redevelopments at The Grand Brighton?
We've been developing state of the art conferencing rooms which can convert to private dining facilities as well as upgrades to the GB1 Restaurant. The hotel's new Victoria Terrace and Lounge Tea Rooms were unveiled last month and the main lounge has a dramatic new scheme.
In addition, we've been developing a series of suites for guests who require easily accessible layouts and we've designed scheme uplifts to many of the inland guest rooms. Finally, we've completely re-designed a unique ladies powder room and the new gents will follow.
What was the design strategy for The Grand Hotel?
First and foremost this is a unique and iconic destination hotel. The spaces must relate in some way to the location and history while maintaining a contemporary yet 'Grand' look.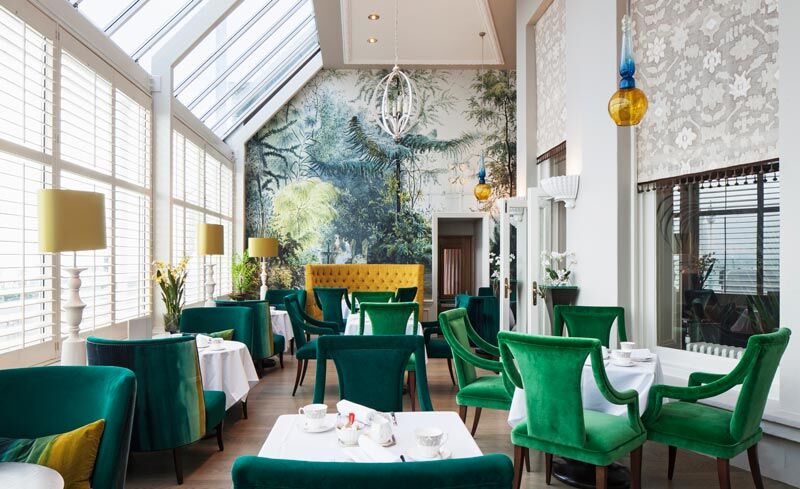 Where did the inspiration come from behind the new design at The Grand?
For the new Victoria Terrace tearooms we researched the history of conservatories in a beach setting and discovered the first iron and glass conservatory was the Anthaeum, just down the beach and built around the same time as The Grand.
We took this as our theme and there is a Victorian conservatory image on one wall with contemporary furnishings in strong Victorian colours. An unusual mix, yes, but it really works!
How will the new style fit with The Grand's current design?
The designs have references to the Victorian grandeur of the hotel with contemporary styling and comfort.
What are the challenges behind working on such a prestigious project?
There are always surprises with a listed building of this age. We've had 'interesting' plumbing and you never know what you'll find when demolition begins.
In the ladies powder room we've catalogued a series of old wallpapers and even a red and black silk ceiling rose from what must have once been a tented ceiling. Throughout we've worked closely with the hotel's Project Manager, Facilities Manager and the local Conservation Officer.
What is your role and what involvement have you had with the redevelopments?
As Managing Director of Park Grove I oversee all projects at The Grand from initial concept to completion. Once the build works commence onsite it's essential that the project is efficiently managed – organisation is key here. Regular site meetings with the build team ensure the project is delivered on time and within budget.
What are the most important aspects to consider before work starts on such a significant project?
Health and safety comes first, followed by an analysis of accessibility for any disabled guests. The budget must be carefully reviewed and agreed to make sure. The hotel and its guests are receiving value for money. Finally, it must be practical and easy to maintain and look terrific!
How do you go about commencing a design process for each project?
We begin by taking a full brief, usually from the General Manager and Projects Manager. We initially come back with our key concepts sketched for initial discussion and move on to full 3D visuals and line item project pricing.
How would you describe the design ethos of Park Grove?
Great interior design has the ability to enhance the quality of people's lives. We have no prescriptive style, instead we interpret the property's architecture, location and setting to create high-quality, memorable interiors which exceed client aspirations. It's what we do every time, but always with unique results.
What are the current interior design trends in 2016?
Strong colour, texture and the mixing of antiques with contemporary furnishings are important this year.
What lasting mark would you like to leave on The Grand?
If a design is truly unique is doesn't really date. We'd like to think our designs will be relevant for many years to come and will give enjoyment to guests and staff alike.
What does the future hold for Park Grove?
What we love most about what we do is the development of truly unique environments. We look forward to more opportunities to respond to a client's requirements in a direct and creative way. There may even be a few Park Grove developed residential properties in the pipeline.
When will people be able to see and experience the new design at The Grand?
Right now. You'll be surprised by the changes thus far… with more to come.
How can people get in touch with Park Grove?
Visit our website to view our project gallery or give us call for further information 01273 600890.