In the Press: Designer Insights Interview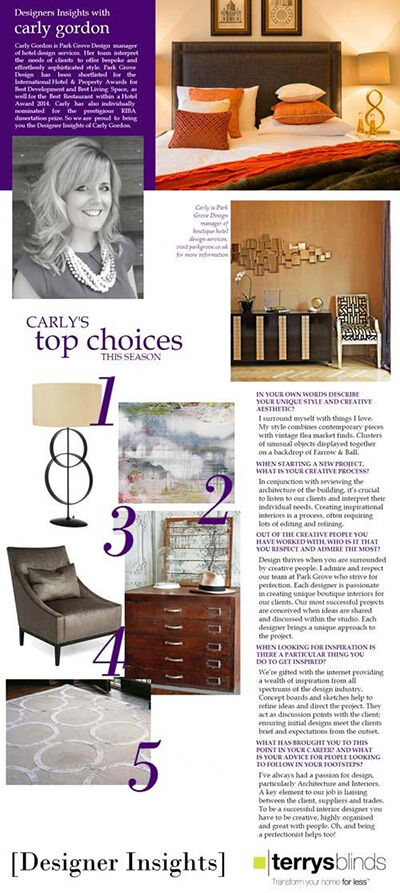 1) In your own words describe your unique style and creative aesthetic?
I surround myself with things I love. My style combines contemporary pieces with vintage flea market finds. Clusters of unusual objects displayed together on a backdrop of Farrow & Ball.
2) When starting a new project, what is your creative process?
In conjunction with reviewing the architecture of the building, it's crucial to listen to our clients and interpret their individual needs. Creating inspirational interiors is a process, often requiring lots of editing and refining.
3) Out of the creative people you have worked with, who is it that you respect and admire the most?
Design thrives when you are surrounded by creative people. I admire and respect our team at Park Grove who strive for perfection. Each designer is passionate in creating unique boutique interiors for our clients. Our most successful projects are conceived when ideas are shared and discussed within the studio. Each designer brings a unique approach to the project.
4) When looking for inspiration is there a particular thing you do to get inspired and why does this work for you?
We're gifted with the internet providing a wealth of inspiration from all spectrums of the design industry. Concept boards and sketches help to refine ideas and direct the project. They act as discussion points with the client; ensuring initial designs meet the clients brief and expectations from the outset.
5) What has brought you to this point in your career? And what is your advice for people looking to follow in your footsteps.
I've always had a passion for design, particularly Architecture and Interiors. A key element to our job is liaising between the client, suppliers and trades. To be a successful interior designer you have to be creative, highly organised and great with people. Oh, and being a perfectionist helps too!
Read the full interview on Terry's Blinds website here.