CASE STUDY: The Cellars Restaurant and Lounge

Set in the North Devon countryside Highbullen Hotel Golf and Country Club boasts breathtaking views across the Devon landscapes of Exmoor and Dartmoor. The country estate offers extensive leisure facilities including gym, pool and spa, as well as the country pursuits of walking, shooting and fishing.
Park Grove Design was appointed to design the restaurant areas, to include an intimate dining space The Cellars and a meeting area Lounge. The brief was to re-instate the character and interior personality back into the dated and tired spaces.
The existing pink velvet banquette seating and stark white walls to the restaurant area were uninviting and poor lighting made the space feel cold. This combined with pink carpet and cane furniture created a very dated dining space!

Addressing the lighting was key in creating a more welcoming dining experience, new wall lights combined with an earthy paint colour created an intimate dining feel. The colour palette of the scheme was inspired by the Arts & Crafts roots of the building with the use of earthy colours with punches of wine plum and teal shades. Elegantly shaped armchairs upholstered in gold velvet combined with a Victorian inspired patterned fabric to the backs of the chairs create interest to the space, while plum coloured banquette seating give the scheme depth.
The space outside the restaurant was transformed into a cosy lounge area for guests to meet before having their evening meal. A custom designed carpet became the feature of the room, made to look like an inset rug positioned in front of the fireplace. A library of antique books fill the lit recess coves, inviting guests to relax and read.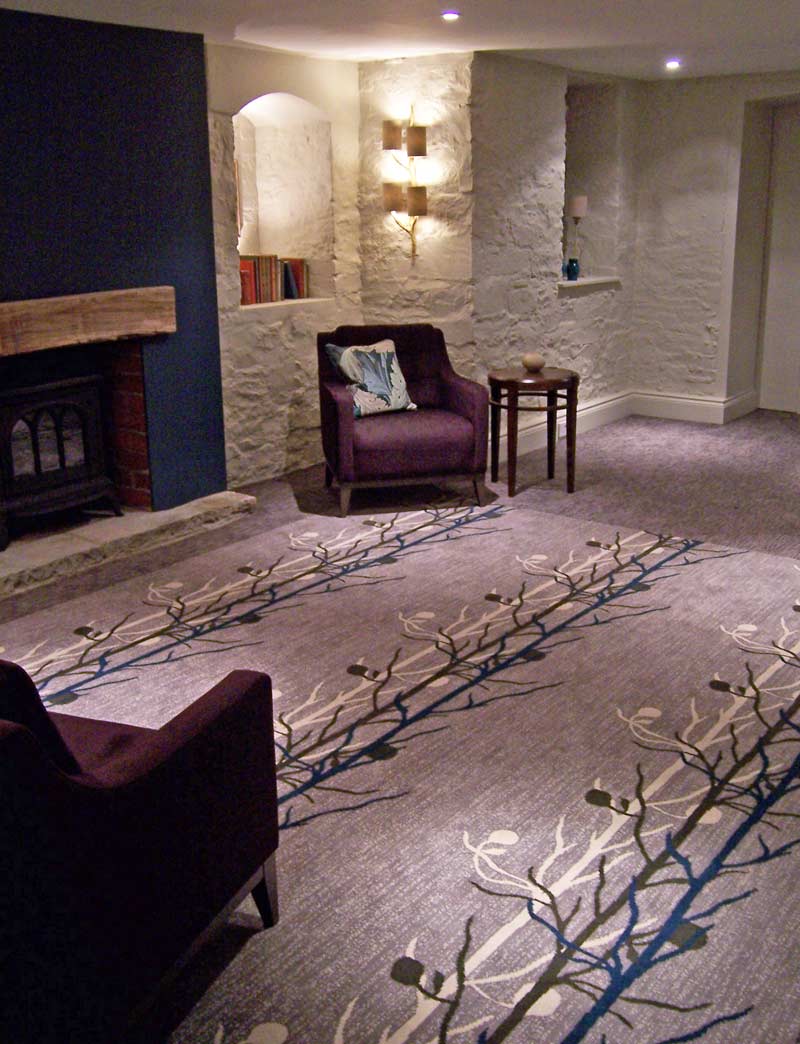 If you are considering refurbishing your front of house areas, contact us to arrange a no obligation design consultation.