Care home design is a challenge (read opportunity) at the best of times with clients requiring a range of research approaches and with a variety of resident group needs. In Britain we must also respond appropriately to the Disability Discrimination Act (DDA) of 1995, the Disability Equality Duty (DED) 2006 and of course the recent Part M building regulations. The NHS in conjunction with University of Sterling publishes an on-line audit checklist which provides a useful tool for assessing the interior elements of care home, and dementia design in particular. A few of the more common themes in this document relate to contrast, and examples are given relating to wall and floor finishes and extending to toilet areas as well as the relationship between interior and exterior spaces. While the necessity for colour contrast is a well-established principle within the sector, how it can be assessed has remained unclear.
In 2001 I was invited to join a professional panel to review the newly-released NCS Lightness Meter. With a handheld device a coloured surface could be compared to 18 grey reference colour samples in order to ascertain lightness values. Alongside the impressive full NCS colour system, (a bulky affair if ever there was one), this provided an entertaining afternoon of matching one's handbag colour to the suit of the person sitting next to you. At the time it was hard to see a practical and cost-effective application for interior design practices.
The technology appears to have jumped forward recently. Lest you think this is about to become a sales pitch, I'd like to stress that any content within this section of the website is entirely impartial and my opinion based on research and practice experience. Last month I met with Professor Hilary Dalke who is Director of the Design Research Centre at Kingston University London and a leading designer/consultant in the field of accessibility, visual impairment and environmental and sensory design. Her project and awards list takes three pages to print. I'm referring to small type here. Hilary is also the founder of Cromocon Ltd. and it is The Cromocon System which I find so impressive. The system consists of three components: the meter, a reference guide and a phone app. It is the combination of these elements which provides a measurable colour analysis for interior design applications.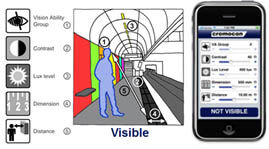 The metre is similar to the NCS unit and to get a reading you cover the surface to be measured and press down three times which calculates an average reading. The Cromocon meter provides measurements of light reflectance values and colour references to RAL, NCS & BS4800 colour systems. It can also match to Farrow and Ball, Benjamin Moore and Pratt & Lambert paint libraries, and others. My practice will be using it to match wall colours from existing developments for one care group to ascertain a brand colour scheme across their properties. Like the NCS meter the results from gloss or highly textured surfaces are inconsistent and unreliable, but on matt to semi-gloss a very accurate match and reference can be achieved.
The guide lists objects, furniture and building components and their light reflective values. It provides a fast rule of thumb guide to 'best practice' contrast guidelines. The format is clear and likely to withstand most site conditions. There are sections which may not be applicable to the interior designer, but the ring binder format means you won't need to carry more than is necessary. It's a handy reference even if you didn't use the rest of the system.
To me the most intriguing part of this system is the telephone app which factor in what Professor Halke refers to as the 5 factors that affect visibility: vision ability group, contrast radio, Lux level, dimension of the object (smallest) and the distance from the viewer to the object. For example, a designer can reference a wall colour to confirm the LRV. Noting the distance on plan to where a pillar is to be placed and its diameter the designer might then propose a contrast colour for the pillar and obtain an accurate calculation as to the contrast level. This will be based on a particular distance from the viewer to the object. It is possible to calculate how visible the pillar will be at different distances to the viewer in your selected contrast colour or indeed in others. A screen shot of the results can also be saved and e-mailed. Our practice works to a 30% contrast between wall and furniture colours in care home environments, but certainly obtaining and assessing the calculations and has never been this straight forward.
It would be useful to share information on any colour referencing systems with which you have experience with a view to distributing this information in a future article. Next issue we'll examine the FF & E supply chain and its relationship to the concept of 'home'.